Nanni Marine Diesel Generators
Nanni offers a range of diesel 50Hz Marine Generators with power range from 5kW to 35kW. All generators are delivered, assembled and ready for installation.
The Nanni Diesel Marine Generator range is powered by the ever reliable Kubota diesel with Nanni's freshwater cooling through a heat exchanger.
Nanni is able to provide all installation related equipment, from fuel tank to exhaust system.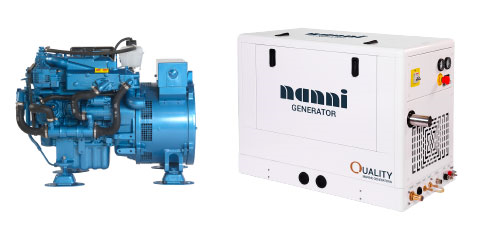 QMF SERIES
Designed specifically for pleasure duty applications, our most compact unit within the Nanni Diesel Marine Generator range comes standard with a sound attenuated enclosure. Both the engine and alternator are water-cooled, ensuring a maximal life span and smooth functioning.
QMS SERIES
Alternators used in the QMS Nanni Diesel Marine Generator range are manufactured by Mecc Alte, a world leader in the production of compact synchronous alternators. All generator sets in the QMS series are available with an optional sound enclosure.
SOUNDSHIELD ENCLOSURE
On both the QMF and QMS range, the sound enclosure is made of insulated panels in painted marine aluminium. Multiple access ports for all necessary connections and maintenance items including lifting visual access.