About Us
A Global Brand
Nanni is an independent International company founded in 1952 and is recognised as France's leading marine engine manufacturer.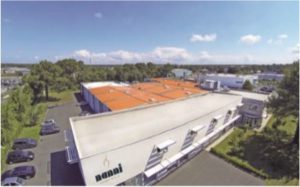 The company designs, develops, manufacturers and markets diesel engine and generator sets designed specifically for the challenge of marine applications. Nanni also provides all related accessories including fuel, control, filtration and electrical systems. With it's comprehensive product range, Nanni offers content in all power and application categories, and is able to provide a full range of solutions, from bobtail engines to complete power systems.
Headquartered in France, the production unit and the design office are certified as compliant with ISO 9001 standards.
Nanni in Australia
Collins Marine was established in 1978 by Frank Collins. As a keen yachtsman, and at that time, a Renault automotive dealer located in Sydney, it was a natural fit for a person with an engineering background and a strong passion for marine to get involved in the distribution of marine diesel engines.
In 1983, just as the Renault Marine Diesel business was gaining momentum in Australia, Renault in France decided to quit the marine market. This led to Renault Marine Diesel being sold to Nanni Diesel Engines. With a name change only, the same people were manufacturing the same engines in the same factory based in Bordeaux, France. Work was then under way to launch the new brand name of Nanni Diesel to the world.
Frank's son and current managing director Peter joined the company in 1984. In 1989 the automotive business was sold and full effort was concentrated on the Marine division. The past 40 years has proven to be very successful with Nanni  now established at the top of the marketplace.
The current Nanni marine diesel engine range begins at 10hp and goes to 320hp whilst the generator systems start at 5kW up to 35kW.